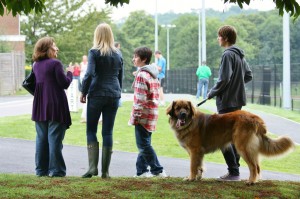 When treating a child with an anxiety disorder or other mental illness, in some cases a clinician might suggest family therapy. This type of therapy is especially recommended with young children. The idea behind family therapy is that parents and siblings are the people who have the most influence on a child. A therapist can determine if the family's dynamic is functional or not. They will examine patterns of communication, problem solving, delegation of power and resources, and more to see what works about the family's style and what does not. Depending on how how close they are to the family or to the child, extended family members (grandparents, aunts, uncles) may be asked to join.
Parent coaching can be offered as well. It is available individually or in group sessions. It can be an essential tool for the therapist who sees the child as the "primary patient", though still wants to assist the parents. Assisting the parents in this way can help make a better home life for the child.
In order for family therapy to be its most effective, all family members must be present. If some members of the family are too young (an infant, for example) or no longer live with the family full-time, like a sibling off at college, these family members need not be present at every session.
Families can provide a great support to any child, especially one suffering from an anxiety disorder or other mental illness.