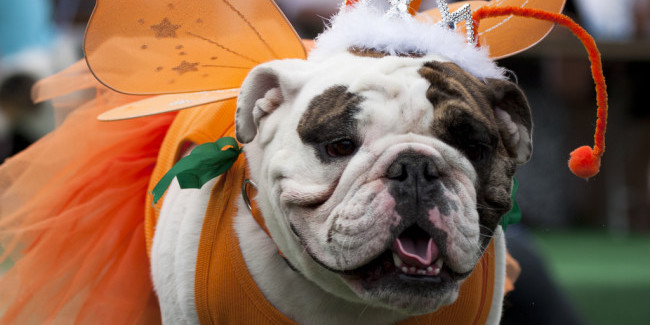 With their wagging tails, eagerness to please and all-around lovability, dogs are known for their ability to boost adults' mental and physical health. And now a study funded by the Centers for Disease Control and Prevention has found dogs may also decrease the risk of childhood anxiety.
Researchers point to the cycle of caretaking, play, companionship and social interaction as a prime way to help prevent anxiety as well as obesity, both of which are often rooted in childhood. The incredibly strong bond children typically develop with their pets is another benefit that can help with children's mental health.
The Study
The study, which was published in Preventing Chronic Disease, looked at various health attributes of 643 children between the ages of 4 and 10. The survey collected information that included age, height, weight and gender as well as responses from parents about the child's somatic and mental health.
Pet ownership was one of the questions, and if parents indicated the household had a pet dog, additional questions were asked about the child's history, time spent and interaction with the pet.
Overall, 57.5 percent of the children had a pet dog, compared to 42.5 percent without one. While there was no difference between physical activity levels, screen time or BMI between the two households, children with pet dogs scored lower in other key areas.
A full 21 percent of children without pet dogs scored above a 3 on the Screen for Child Anxiety and Related Disorders that measures levels of anxiety. A score of 3 or above means additional assessment should be performed to diagnose anxiety. Only 12 percent of children with dogs had a score of 3 or higher on the survey.
Researchers say dogs may reduce anxiety in children by automatically stimulating conversation with other people, decreasing separation anxiety through animal companionship, and increasing oxytocin levels that decrease the stress-response chemical of cortisol.
Researchers did note it was unclear, however, if dogs helped reduce anxiety or less anxious children were more likely to have pet dogs to begin with.
Best Dog Breeds for Children
If you do decide to add a dog to your household, the American Kennel Club outlined the top breeds that typically do well with children.
Bulldog: Friendly, courageous, calm, as well as highly comical
Beagle: Happy, easygoing, loving as well as lovable
Newfoundland: Patient, devoted and super-sweet; known for being wonderful companions
Golden retriever: Friendly, intelligent and devoted
Labrador retriever: Outgoing and friendly, plays exceedingly well with others
Soft coated wheaten terrier: Friendly, happy and deeply devoted
Weimaraner: Fearless, friendly, alert and obedient
Bull terrier: Charming, playful, loyal and often mischievous
Boxer: Bright, loyal, active and ready for fun
Adopted a mixed breed from the shelter is always another option, and many shelters let you and your family spend time with the pooch to see if you make a good match.
In addition to potentially decreasing the risk of childhood anxiety, dogs can help children learn responsibility and cooperation – while providing loyal unconditional love.
SOURCES:
Photo Credit: San Diego Shooter via Compfight cc