Our Other Products You Can Promote | Contests and Prizes | Your Affiliate Hoplink | Product Graphics and Banner Ads | Pay-Per-Click and Facebook Advertising | Pick Your Landing Page

Thank you for your interest in becoming an affiliate. If you just subscribed to the affiliate newsletter above, the VERY FIRST thing you should do is STOP and go check your email to confirm your subscription.
If you haven't yet subscribed to the affiliate newsletter above, please take a moment to do so you don't miss out on important communication from us and so you are eligible to win cash and prizes. Special promotions are ONLY announced by email through the affiliate newsletter and unless you confirm your subscription, you will not receive any newsletters or other critical communications and you WILL NOT be eligible to win cash or prizes from our affiliate promotions.


PLEASE REMEMBER, IT IS YOUR RESPONSIBILITY TO ADHERE TO ALL FTC RULES AND GUIDELINES AND NO SPAM EMAIL IS TOLERATED! AFFILIATE MARKETING DOES NOT GUARANTEE ANY INCOME OR RESULTS AND IS NOT A "GET RICH SCHEME." PLEASE CONDUCT YOURSELF WITH INTEGRITY WHEN PROMOTING OUR PRODUCTS.
---
Our Other Clickbank Products You Can Promote

Did you know that we offer several other fantastic self-improvement products through Clickbank that you can also promote? Click a link below to learn more about the amazingly products we currently offer to help people improve their lives!
---
Affiliate Cash Bonuses and Prizes
In addition to making commissions on every sale paid through Clickbank, you also have the opportunity to win any of the fantastic bonuses below! What's even better is that sales you make for ANY of the great products we offer through Clickbank are included in the total.
You'll receive your bonus at the end of the 2nd succeeding month to allow time for the customer refund period to expire. For example, if you have $1000 sales in July, you'll receive the bonus on September 30.
Refunded sales do not apply to total. Sales will be calculated using Clickbank Reporting and Analytics.
Just contact us when you've earned your bonus! You must contact us within 14 days of making the sales and be an existing affiliate newsletter subscriber to receive your bonus.
Promotion may be canceled at any time. Check back here for updates.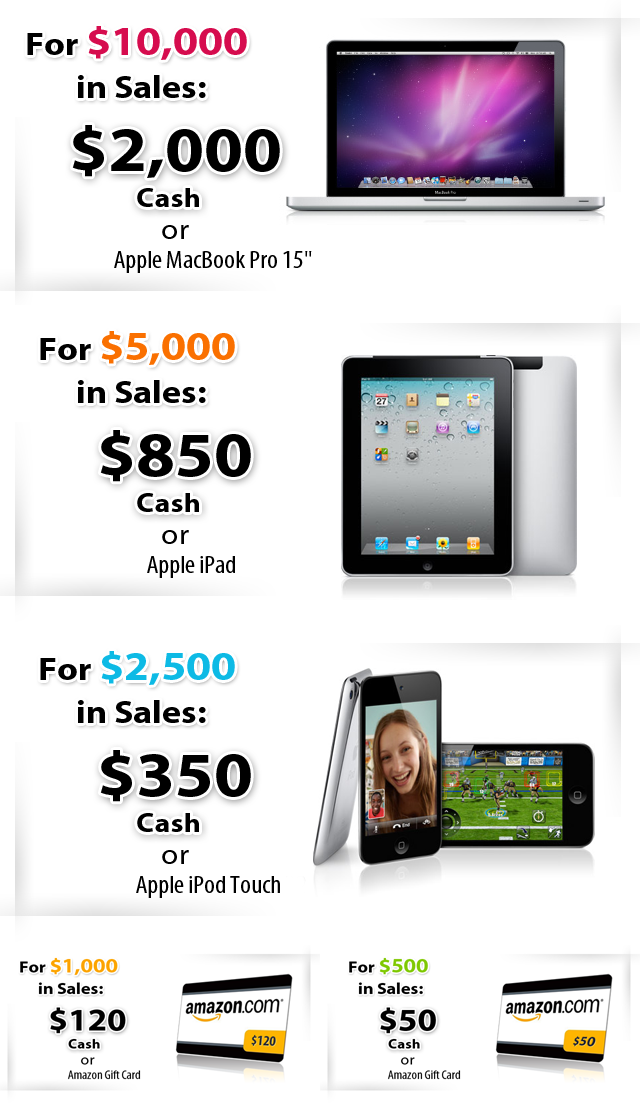 ---
Your Affiliate Link
If you're new to affiliate marketing and or clickbank, the first thing you'll want to do is familiarize yourself with what clickbank is and how it's used.
Step 1:
Clickbank is the 3rd party company that handles the processing of our credit card transactions as well as the affiliate program tracking. (All commission checks are mailed out directly from clickbank). In order to promote our products, you must first become a Clickbank affiliate. Don't worry, it's super easy

If you're not yet signed up at clickbank, then setting up your clickbank account is the very first thing to do. Simply click here and a new window will open up that takes you to the clickbank.com signup form.
On the clickbank sign up page, you can fill in your personal details and pick your own special clickbank account name (also called a clickbank "nickname" or "affiliate id").
After you've set up your clickbank account, then you're ready to start promoting our products through your special affiliate hoplinks. When someone purchases after coming through your link, you receive a commission!
Clickbank sign up page:
http://secure.clickbank.net/signup.cgi
Step 2:
Once you have signed up at Clickbank for an affiliate account (it's free, refer to step 1), then you are ready to start promoting and marketing our products!
Marketing our products is easy. All you need to do is put special links on your webpages, blog, or in your newsletters to send traffic to our website. These links are called "HOPLINKS" and they are important because this is how Clickbank keeps track of the traffic you send to our site and gives you credit for the sales you generate.
So the very next step after you have signed up for your Clickbank account is to configure your hoplink. It's important that you do this correctly to receive credit for your sales! Please remember that YOU are responsible to make sure your hoplinks are coded and working correctly!
Here is how to correctly make your hoplink:
The current standard clickbank hoplink format is:
http://xxxxxxx.vendor.hop.clickbank.net
"afchild" is the vendor (product) name, so that looks like this:
http://xxxxxxx.afchild.hop.clickbank.net
So now, all you have to do is insert YOUR clickbank affiliate nickname in the place where the x's are located.
For example, if your affiliate nickname is johnsmith, then the hoplink would look like this:
http://johnsmith.afchild.hop.clickbank.net
That's all there is to it, easy right? When someone clicks through YOUR hoplink, they are redirected to our website and a "cookie" (a small tracking file) is dropped onto the computer of the visitor. This "marks" that visitor as coming from your referral.
Clickbank uses 60 day cookies, so that means if the people you send to our website purchase that day or if they return any time within the next 60 days with your tracking code on their computer, you will still get the commission for the sale.

For the most current and detailed information, rules, and regulations about being an affiliate of Clickbank, and if you have any questions about making hoplinks or using advanced features like tracking and reporting, please refer to the Clickbank Help Center by clicking here.
---
Reviews
If you have your own website, blog, mailing list, or ezine, then what we think is one of the absolute best ways to get started as an affiliate is to write an objective, honest, and genuine review of the product you're promoting and sharing it with your audience.
Reviews that are "over the top" are usually not nearly as effective as reviews which are honest, objective, and which reveal pros and cons based in your actual experience and opinions about the product. Keep in mind that our products require effort on the participants part and that they are NOT any sort of quick fix, miracle cure, or guaranteed solution.


Any review or opinion should be based on your actual experience and use of the product. We do not provide affiliates complimentary copies of the material.

We think it's a great idea to use graphic on your review page and be sure to make the image clickable using your affiliate link. There's plenty of graphics and banner ads for you to use down the page.
On another note: Review pages make excellent landing pages for Google Ad Words, Facebook Ads, and other Pay Per Click campaign landing pages.
---
Product Graphics and Banner Ads
Just right click on the banner or graphic you want and save it to your computer, then make it a link on your page!
You can also download ALL our banners and product graphics in a zip file to your computer by clicking below:
Click to Download all Affiliate Graphics
Please keep in mind, the graphics and banners provided below should be stored on YOUR server because the file locations we use change frequently and this will cause the graphics to NOT WORK. Since you will be determining the location the graphics are stored at on the web, we can't preconfigure the below graphics with your affiliate link, so you will need to know how to save the banners, upload them to your server, and use them with your affiliate link. If you need help, you can search the web for terms like "linking an image" or "linking a banner", or whatever you need assistance with. It's really very easy with a basic web editor and ftp client. Unfortunately, we cannot provide this level of support because there are so many varieties of software and tools to accomplish this, but you should be able to find all the answers you need quickly online.
Product Images
Banners
---
Keywords, Google Adwords, and Pay-Per-Click Ads
Google Adwords, Facebook Ads, and other Pay-Per-Click (PPC) networks may often be the fastest ways to begin promoting and what we have historically found to be the most effective.
To sign up or login to your Google Adwords account, click here (opens in new window).
If you would like to get started with advertising on Facebook Ads, you can click here (opens in new window).
Below is a set of recommended keywords to use. You may change or add other keywords of your choice.
Download a Text Document of the Child Anxiety Keywords
---
YOU Pick Your Traffic's Landing Page!
With most Clickbank products you may choose to promote, you are only able to direct traffic to the landing page the vendor has set as the default affiliate landing page.
When you promote our product, you can CHOOSE the landing page that your traffic gets sent to!
Using page redirection software specially designed to work with Clickbank, you can decide if you would like the traffic you send to land on a page with or without an opt-in form. Some affiliates prefer their traffic to be sent to a page with no opt-in form present, while others have found that they are able to increase their affiliate sales by allowing their traffic to be put into an email sales funnel via the opt-in so they are more likely to purchase at a later date.
Remember, one of the benefits of being a Clickbank affiliate is that if the traffic you send to our website purchases any time in the next 60 DAYS, you still get credit for the sale when your affiliate ID is used! Our research and experience has found that it is to the affiliates advantage to use the landing page WITH an opt-in form, so we invite you to send your traffic to the opt-in version of the landing page by using the default page configured with Clickbank. If you would like your traffic to have the opportunity to be put into an email sales funnel, you don't need to do anything. If you prefer to NOT have an opt-in on the page your traffic gets sent to, just follow the simple instructions below:
All you need to do is add a simple page id (in the form of ?offer=noopt ) to the end of a typical format hoplink, such as this: http://ClickbankID.afchild.hop.clickbank.net/?offer=noopt (of course replacing ClickbankID with your actual Clickbank id)
If you want to add a clickbank tracking id in addition, that will simply be formatted such as this: http://ClickbankID.afchild.hop.clickbank.net/?offer=noopt&tid=TRACK1 (substituting your chosen tracking id)
If you prefer your traffic to be sent to the page WITH the opt-in form so you can maximize your opportunity for sales, you don't need to do anything! No special codes or redirection is needed, just use your regular hoplink such as http://ClickbankID.afchild.hop.clickbank.net.
---