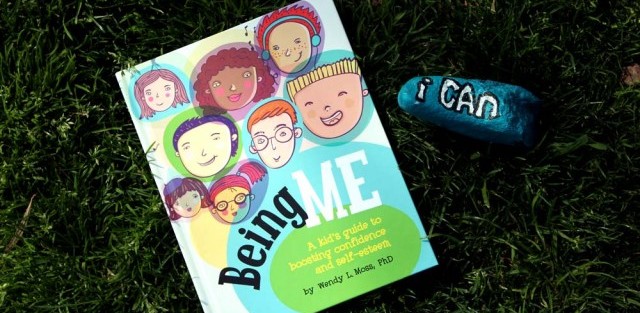 Being Me: A Kid's Guide to Boosting Confidence and Self-esteem (Magination Press, 2010), is geared towards children aged 9 and up and available through the publisher at APA.org or at Amazon.com. Author Wendy L. Moss, PhD, ABPP, FAASP, is a licensed psychologist with a certification in school psychology and a doctorate in clinical psychology.
About the Book
When you were about 9 years old, do you remember confidently standing at the front of the class reciting the state capitals, easily chatting it up with kids you thought were cool and simply laughing it off if you did something embarrassing like drop your lunch tray in the middle of the cafeteria?
We didn't think so.
One of the reasons may have been because you didn't have Wendy Moss's book Being Me.
While the book may not give kids instant knowledge of all 50 state capitals, it can help give them the confidence boost they need to stand up and try to recite them anyway – and be totally fine if they miss a few.
A big theme in the book is being brave enough to try. Whether children are trying to make friends, face the first day of school, stand up for themselves in the face of peer pressure or even – gasp! – make an attempt to start a conversation with their crush, having the confidence to try is a key point.
And, as Moss points out, that confidence comes from within.
She opens the book with a discussion on self-confidence, asking kids to define it for themselves while including tidbits of wisdom on the concept. 
"Basically, confidence doesn't mean that you are better than anybody else, but that you are okay with being you," Moss writes.
Bingo. As you may have gathered from the book's title, Being Me is dedicated to helping kids be comfortable and content with being who they are. Moss does this by taking children on a self-confidence journey, starting off with a big warning on things that can kill off confidence, such as negative self-talk and sabotage. The journey continues with ways kids can change their thoughts, build a support network (that includes their parents!), expand their comfort zone and end up as their own best friend.
Children suffering from anxiety issues may especially take comfort in Moss's assertion that there are times when anxiety is OK and even expected, like when meeting new people or trying new things. Moss urges kids to view those situations as an exciting adventure where trying their best is all that matters.
The journey to self-confidence is helped along with examples of situations Moss encountered during her extensive experience in child psychology, a number of helpful exercises, gads of useful tips and a reader-friendly text. The book can be useful when kids read it on their own and open the door for honest discussion when kids read it with their parent.
Intriguing questions peppered throughout the text include: 
If you like you, why shouldn't others?
Do you know yourself and what makes you special?
Have you ever rewarded yourself?
And, in cases of rejection (even from a crush that may laugh in your face):
Why would you want to hang out with a person who doesn't like you?
Why would you want to hang out with a kid who makes you feel bad?
How we wish we had this wisdom when our crush Scottie told us we looked like a rutabaga.
The wisdom is right here going forward, courtesy of Wendy L. Moss.
About the Author
Wendy L. Moss, a practicing clinical and school psychologist, certainly has the credentials and experience to successfully tackle the issue of self-confidence for kids. We specifically asked how her experience related to Being Me.
"I have listened to the concerns of children and adolescents as I have counseled them in private practice, hospital, residential, clinic, and school settings," Moss says. "Through my work, I have realized that one's confidence level can greatly impact the way a person approaches life, relationships, challenges, and new experiences."
What the Author Has to Say About the Book
We sent a brief set of questions to Moss, and here's what she had to say:
Why did you write the book?
"I wanted to reach a large audience of children and preteens so that they may benefit from some strategies for increasing their self-confidence and dealing with "bumps in the road" as they proceed on their journey through life."
How big an issue is self-confidence for kids? Where does it rate, say, in relation to other childhood issues?
"Confidence concerns can co-exist with other childhood issues. Other childhood issues can lead to low confidence levels and low confidence levels can lead to other childhood issues. There are many young people who have experienced moments or times of self-doubt. It is harder to approach a challenge when self-doubts or low self-confidence are present."
If children were to walk away with ONE LESSON ONLY from the book, what would you hope that lesson would be?
"It is difficult to select one lesson, but if I must, I guess it would be to remember that no one is perfect and confidence comes from trying your best, not necessarily from being the best."
If parents were to walk away with ONE LESSON ONLY from the book, what would you hope that lesson would be?
"The importance of helping children to appreciate themselves, gain self-confidence, focus on strengths, and build up areas of weakness."
What is the WORST thing a child lacking confidence can do?
"Use negative self-talk and sabotage oneself, since these actions and thoughts can rob a child of confidence."
What is the WORST thing a parent of a child lacking confidence can do?
"If a parent is trying to raise a healthy child, then the worst possibilities are already averted.  However, it is important to help children to develop the self-confidence to handle age-appropriate situations independently and also to know that it is okay to ask for help or guidance when confused or uncomfortable in a situation or with a task."
Thank you, Wendy Moss, for your insightful responses. And thanks for the confidence boosters found in Being Me, which can apply to both children and adults alike.