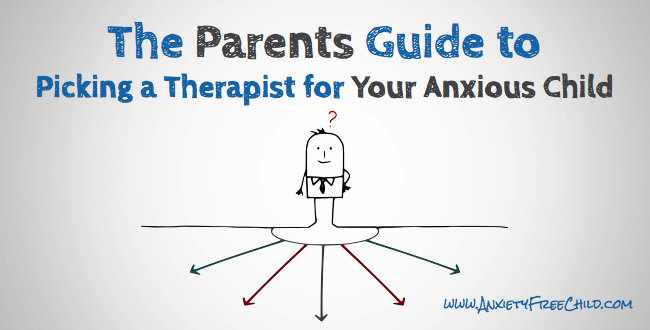 You and your anxious child walk into a therapist's office and you immediately feel at ease. Better yet, your child seems to breathe a big sigh of relief, smiles at the therapist and bounds happily onto the couch for a session of psychotherapy for anxiety.
While this scenario may describe a seemingly ideal therapy session, it's often a far cry from reality. Choosing therapy for your anxious child may be a difficult decision that is still pocked with erroneous negative stigmas, not to mention reluctance from your child. Choosing a therapist can be equally as tough, although it doesn't have to be.
How to Begin Your Therapist Search
If you don't think your situation is a good fit for self-guided resources you use with your child in your own home like those we offer and that your chid would benefit from the individual attention of a therapist,  a good place to start your search is with a referral from your child's pediatrician or other health care professional. The pediatrician may be an ideal source since he or she already knows what's going on with your child and can direct you someone who can best assist.
The American Psychological Association says you can also find therapists through different organizations, such as your local university's psychology department, your local psychological association or your community mental health center. Another choice is asking trusted family members, friends or members of support groups for any names of therapists you want to check out.
Your first session, after all, is just to give you and your child a chance to see if the particular therapist is right for you. Call it a consultation and make sure all signs point to a good match.
What Makes a Good Therapist Match?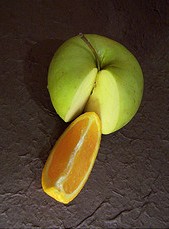 The top priority for finding a good match is finding someone with whom you and your anxious child feel comfortable. Walking into the office should give you and your child a warm, cozy feeling – or at least not send you both running for the hills.
While nervousness may be evident when you first meet the therapist, the overall goal is to make sure you and your child feel comfortable enough with the person to start a working relationship. Being at ease is a must for therapy to work effectively, as it's tough to open up to a person who you neither trust nor even like. Get your child's take on the person and, if the therapist makes your child feel ill-at-ease, find out why.
Comfort is top priority, but there certainly are others. You want to find out what kind of experience the therapist has treating children with anxiety issues, and possibly any other issues or conditions from which your child suffers.
Make sure the therapist has the proper credentials and licensing in place, and find out a bit about his or her background. Credentials for psychologists typically include a bachelor's degree plus an average of seven years of graduate education, training and research work, all of which culminates in a doctoral degree. Psychiatrists have medical degrees. Counselors, social workers and other mental health therapists usually don't have the same extensive background as either psychologists or psychiatrists, but they are generally licensed or certified in their fields.
Some questions to ask are noted by the APA and the Anxiety and Depression Association of America:
How long have they been practicing?
What is their basic approach to treating anxious children?
If your child needs medication for treatment, can they prescribe it or refer you to someone who does? Can you coordinate treatment with your child's pediatrician?
How will you or your child know if the treatment is working?
How long is treatment expected to last? How long is each session and how many sessions per month should you expect?
Do they treat only your child or include other family members in any sessions?
If treatment doesn't seem to be working for your child, will the therapist modify the treatment?
Will your child's symptoms change as he or she gets older? If so, how will treatment change? 
Financial Considerations 
What insurance plans do they accept?
What is their fee schedule and, if you have to pay any fees out of pocket, do they offer a sliding fee scale? 
Therapist Red Flags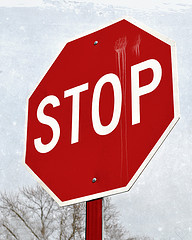 The urge to kick, scream and run from the office upon meeting the therapist is usually a solid indication that the person is not for you. With children, however, this urge may come with any therapist they meet if your child is not particularly enthusiastic about receiving treatment. You'll have to go with your gut for your final decision. Other signs, however, are surefire ways to determine if a particular therapist is not a good match.
They refuse to answer questions
They are vague about their background or otherwise seem to be concealing something
They engage in treatment methods with which you do not feel comfortable
They lack training and experience with any issues remotely related to childhood anxiety
They simply give you the creeps
What You and Your Anxious Child Can Expect
The first session is usually dedicated to finding out more about your child and his or her needs. Mayo Clinic says the therapist may do this by asking questions about your child's past issues, current emotional state and a history of his or her physical health. The early sessions are often dedicated to letting the therapist learn more about and fully understand what's going on with your child and the most effective means of treatment.
Depending on the therapist you go with, you could meeting him or her at a home office, office complex or in a medical complex. The typical length and frequency of a session is 45 to 60 minutes once a week or once every other week.
If your anxious child is engaging in psychotherapy, the therapist will most likely encourage your child to talk about his or her thoughts, feelings and troubles. Your child may come out of a session feeling exhausted, upset, angry or otherwise disturbed, which is a normal reaction when a session involves highly emotional discussions.
Emotions can be draining, but the therapist is there to help your anxious child deal with them in a healthy manner. Therapists may also assign "homework" for your child, consisting of activities that reinforce the lessons learned during the sessions.
While the therapist may have been able to give an estimate on how long therapy may last, the exact length of treatment depends on several factors. Mayo Clinic notes these include the severity of your child's anxiety and symptoms, how long your child has been suffering from anxiety issues, how much stress your child experiences in his or her daily life and the rate of progress.
It may take some time for your child to open up to the therapist, which may only happen after your child feels he or she can complete trust and confide in the person.
Patience is part of the equation when it comes to successfully therapy. Other integral aspects include openness, honesty and willingness, both on your part and the part of your child. And you never know, with enough sessions under his or her belt, your anxious child may indeed begin to walk into the therapist's office with a huge smile and sigh of relief.
SOURCES:
Photo Credits: Martino!, Hammonton Photography