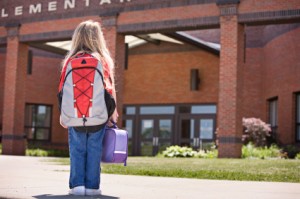 Starting school in a positive way can set the tone for the rest of the year. Most children suffer from some beginning-of-the-year jitters, but those who are truly anxious about school may show more than the typical symptoms of nervousness. Helping children deal with anxiety in productive ways can make the beginning of the school year a happy and exciting time. According to the American Association of School Psychologists, the key is in planning and keeping a positive attitude during the transition time from August to September.
Planning Ahead
School anxiety can begin as early as a month before the actual beginning of school. For some children school starts in August and for others September, so parents can begin to see signs of stress from mid-July to the end of August. This is especially true if activities like vacations and sleep-away camp are experienced early in the summer. If you sense anxiety building in your children mid-way through the summer, take time to talk about what was good about the previous year, what other things they have to look forward to before school starts and any activities or experiences they would like to have before summer is over. Visits to local museums, zoos, meeting friends at the park or pool are all ways to extend summer fun when children begin to think about the beginning of school. You can also have children make lists of what things they would like to buy for school on school shopping days. Since many school districts are opting to wait until the first day of school to give out supply lists, make your school shopping days about new clothing items, lunch bags and back packs rather than purchasing items they may not need.
Setting Goals
As the start of school gets closer, setting goals is a great way to relieve back-to-school anxiety. This is especially true for students who do not enjoy school or have less-than-positive memories of the previous year. Sit down individually with each child and talk about what worked in the prior year and what needs improvement. Set reasonable short-term goals and long-term goals that guarantee success. Talk about extra-curricular activities and determine what can continue and what needs to be eliminated. Children can experience a great deal of stress just from thinking about increased responsibilities and demands on time, so making sure your child's schedule is manageable is important for school-year success. Be sure to include down time and time for play so the schedule does not seem too overwhelming.
Getting Involved
For younger children, knowing you are going to be active in the classroom can be a big de-stressor. Having parents in the classroom and building on a regular basis helps children understand that education is a priority and that you are involved. Talk to your child about how often they would like you to volunteer, because parents who are visible all the time can inhibit independence in their children. Finding a balance between being available and visible and letting your children cope with challenges on their own is important. Volunteer based on the needs of the teacher and let your child know ahead of time when you will be in the classroom or building.
Planning ahead and getting your children involved in the decision-making process about schedules, activities and goals will help relieve school anxiety and start the year off in a positive way.